Transgender Day of Visibility (Mar 31st) celebrates trans and non-binary people, where Transgender Day of Remembrance (Nov 20th) is a vigil focused on honouring the memory of the transgender people whose lives were lost in acts of anti-transgender violence.
Visibility matters because as our identities are erased so we are excluded from life-saving care (standard waiting lists for live-saving gender-affirming surgeries are 3-5 years) and from the right to safety (41% of trans people have experienced a hate crime within the past twelve months).
What are we to do in the Arts, arguably the most visible industry, when 51% of trans people have hidden their identity at work for fear of discrimination?
Representation on screen and stage is oftentimes where first impressions are formed, and yet reductive, transphobic representations of trans people as set dressing, throwaway gags and tragic side-plots abound.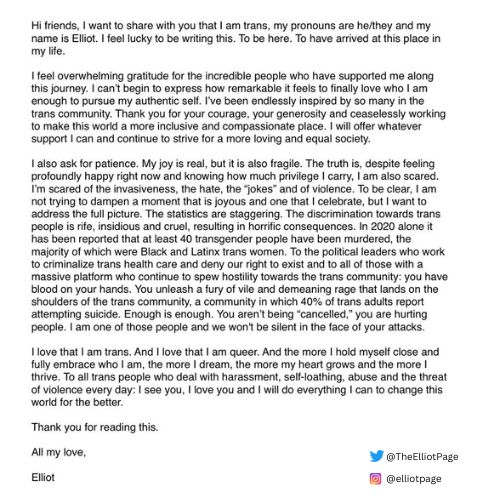 When trans people begin to represent themselves in their own stories, we break free of the 'psychological warfare' (Fanon) of proving our existence or asserting our right to use a bathroom in public without harassment, and instead begin to be perceived by the general public as we are - complex, multifaceted and beautiful individuals who exist and have always existed.
But what of the Arts?
When we see our realities reflected back to us on screen, stage and in music, people begin to accept and respect our realities as real. It means having our bodies accepted, being acknowledged as existing by the medical institution, being able to access vital care and to live without fear. And it starts with visibility. Alok Vaid-Menon comments:
"Here are people like me on stages like this but there are not people like me in the presidency [...] your universities, [...] your billboards. You put us on stages because that's where you're comfortable with us. So you can point and say at least I'm not that..It's the same thing they've been doing since the circus…the freak show…do you know who you are without pointing at us and saying at least I'm not that? … Because I know who I am."
This Trans Day of Visibility I want to remind you that diversity and self-representation are not only necessary for political reform but are frankly more interesting. We're tired of 'the circus' and 'the freak show'; we're sure you are too. We want to be seen not as spectacle but as complex players in our own narratives. We also refuse to be maligned and restricted to performance alone, as Polly Wiseman observed of neurodiverse people last week.
The gender binary hurts everyone (cisgender people too); to acknowledge that gender is complex saves trans lives and better reflects the complexity of the world we live in. In the Arts, it makes for more accurate and interesting representations of our lived experiences (imagine a Viola played by an actor with experiences of gender dysphoria, for example).
For me, art is a way to be visible in ways that aren't otherwise acknowledged - to exist sans explanation. I urge cisgender people to do the research, fight for trans rights in the workplace and society-wide, and support trans charities that protect trans kids (rest in peace to far too many of our children).
We are beautiful - not in spite of our difference, but because of it. Like Alok, I know who I am. But with Elliot Page I ask for patience, because my joy is real and deserves to be visible, but is fragile too. We are valuable. We have so much to contribute. Our visibility ought not to come at a cost.
Support/Resources:
TransActual share facts about trans rights, UK law, NHS healthcare and transphobia.
Gendered Intelligence exist to increase understandings of gender diversity in education, the workplace, youth and community centres and the public as a whole.
Mermaids provide support and information to gender-diverse kids, young people and their families.
CliniQ and Spectra provide sexual health and well-being services free to trans people.
If you have any experiences you'd like to share relating to transgender visibility in performance, the arts or the wider society, we'd be really interested to hear from you.
If you'd like to keep up to date with all our blog posts, important and interesting stories in the worlds of theatre, arts and media, plus job ads and opportunities from our industry friends, sign up to our daily media briefing at this link.